Kept - Girls

1. Cook
- Original, and with a friend.
2. Waitress
- Original - she could also be in a casino! Will do something more... CORE with that short skirt!
4. Rock Guardian
- Worked hard to replace the torso... and the.. foliage on her head.

5. Pirate
- I remembered those arms from the Movie, thinking they were a match... so.. Also decided not to keep her all crippled. And though I do love the head, not for a pirate.
6. Winged Lady
- A fancy lady (replaced the legs, of course)
7. Tattoo Artist
- Just replaced the hair, so it doesn't cover that gorgeous torso!
8. Kitty
- AH! A ballerina. There. Just replaced the torso, cause it's too beautiful to hide. And from the torso, a nice modern klicky.

9. Lady with Dog
- A fancy lady (replaced the legs, duh)
10. Snow Walker
- The neckpiece had to be replaced - again, can't cover the torso! And I like these legs better..
11. Gnome
- The torso was set aside for that use since the first pics showed up... And from the legs+hat did a female garden gnome, who will join the others.
12. Firefighter
- Decided to get her off the uniform - yet ANOTHER torso not to hide.. The jacket will be used on another firefighter later (since I don't think we have one like that YET)...
And some details...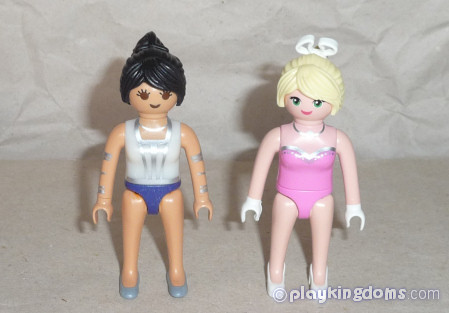 Queen Tahra, August 2020